Free Dental Hospitals In Hyderabad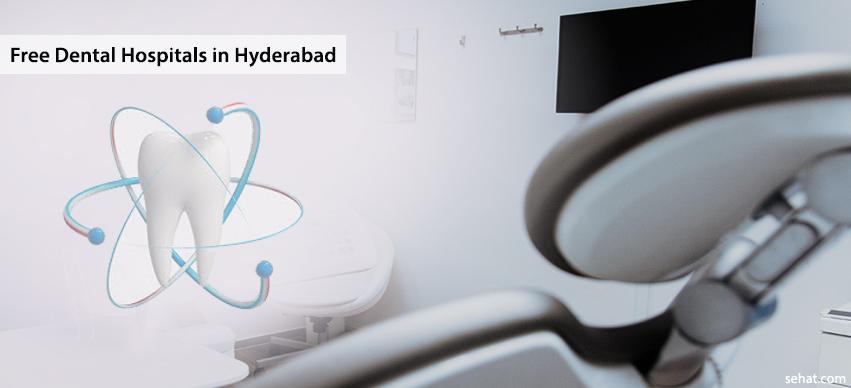 Dental problems are quite common with people in all age groups. We have no idea of the wide varieties of dental problems that can be there. Some of the issues are so grave that they can actually become extremely serious and severe when not treated at the right time. Problems like oral cancer and other ailments of the mouth and teeth have left dentists looking for answers as well.

Due to the various kinds of dental problems, dental clinics and hospitals are open. You will find such hospitals and clinics in almost all cities in India. While some of the dental hospitals offer services for free of cost, some of them are chargeable. There are modern and technologically advanced equipment and tools in even the free dental hospitals in Hyderabad.

List Of Free Dental Hospitals In Hyderabad
Government Dental College And Hospital In Hyderabad
The Government Dental College and Hospital in Hyderabad is an excellent place for solving all kinds of dental problems at the most cost-effective rates. Currently, there are many departments in the hospital as well as in college and all of them are running smoothly. It is estimated that almost 800-1200 patients come to the hospital per day for seeking dental treatments. Many patients are referred to this dental hospital from various parts of Andhra Pradesh and other surrounding states. Some of the fields in which the hospital excel include that of periodontology, prosthodontics, conservative dentistry, and maxillofacial surgery.
Address:Afzalgunj Rd, Near Police Station, Afzal Gunj, Hyderabad, Telangana 500012
Contact Number:040 2461 9012
Aurobindo Dental Hospital
If you are looking for free dental checkups in Hyderabad, you can easily visit Aurobindo Dental hospital for the same. Started in the year 2003, Aurobindo Dental Hospital currently has two branches in the state. High-quality dental care is provided to the patients who visit the hospital for treatments. Some of the best dentists and other health professionals are attached to the hospital and they provide the required treatment in a comfortable and amiable ambiance. Technologically advanced dental equipment are used in the treatments of the various dental issues so that the best result is obtained. Some of the dental procedures that are carried out at the hospital include laser whitening and bleaching procedures, cosmetic dentistry procedures, various kinds of tooth extractions, dental veneers-crowns and bridges, root canal treatments, dental implants and braces, smile designing etc.
Address:301, Nalamada Apartments, Above big bytes bakers, Srinagar Colony Main Rd, Hyderabad, Telangana 500073
Contact Number:090320 18887
Top Dental Hospitals in Hyderabad
FMS Dental Hospital
FMS is a multi-specialty dental hospital in Hyderabad and is believed to be first of the kind in the city. The hospital started in 1993 and today the chain is a leading provider of dental care services in South East Asia. Equipped with the latest equipment and tools, the hospital has a facility of catering to the toughest of dental issues without any problem. There is a dedicated center for all international patients so that they can get the best dental treatments in the city. Highly experienced and well-known dentists are attached to the hospital for providing the required assistance to patients. FMS Dental Hospital is no doubt your one-stop destination for solving all kinds of dental problems in Hyderabad.
Address:G - 1, Kanthi Shikara Apts, Punjagutta, Hyderabad, Telangana - 560082
Contact Number:918885060760
Eledent Hospital
Getting high-quality dental care in Hyderabad has been made easy at Eledent Hospital, Hyderabad. The best thing about this dental hospital is that it emphasizes on having a comprehensive, integrated and multidisciplinary approach to all kinds of dental problems. The hospital is equipped with the best of dental appliances, equipment, and tools so that in-house treatment can be offered for almost all kinds of dental issues. Doctors, nurses and other staff at the hospital are amiable and friendly.
Address:K1 Primo Building, 3rd floor, Above Ratnadeep Super Market, Kondapur Bus Stop, Hyderabad, Telangana 500084
Contact Number:077996 39994
Tooth Fairy
If your child suffers from dental problems, do not worry about the same. There are millions of other kids who are birds of the same flock. Tooth Fairy is an exclusive dental hospital for kids and children in Hyderabad and quite popular as well. Innumerable parents have brought their little ones with various kinds of tooth problems and solutions to the problems were sought at the hospital. Various kinds of dental services are offered at the hospital including that of preventive dentistry, surgical dentistry, intraoral diagnostic radiography, orthodontics etc. The staff at the hospital knows how to handle kids effectively and get rid of their dental problems.
Address:Adarsh Nagar, Opp Krystal Hotel, Lake Hill Road, Basheerbagh, Hyderabad, Telangana - 500001
Contact Number:917569788525
Amrutha Sanjeevani Dental Care
If you are looking to consult the best dentist in Hyderabad, you have to come to Amrutha Sanjeevani Dental Care in Hyderabad. Here you will find Dr. Priyamvada offering various kinds of dental services including dentures and partials, family dentistry, extractions, deep cleaning, root canals, porcelain crowns, and bridges, take home or in office bleaching, regular cleanings and examinations and so on. The dental care clinic offers emergency helps as well to patients. Doorstep service is also offered by them particularly for the old and disabled people. Charges of the services are quite decent at the dental care center.
Address:Balaji Towers, Opp Santoshima Temple, Vinayak Nagar Main Road, Old Safilguda, Secunderabad, Telangana 500056
Contact Number:091773 88058
Dental Specialists
Dental Specialists is a highly recommended dental care clinic in Hyderabad. Dr Venkat Nag and Dr Ankitha have been offering excellent dental care services to patients in all age groups. Utmost care and attention are given to each and every patient coming to the dental clinic with their dental problems. Equipped with modern equipment and appliances for dental treatment, almost all kinds of tooth problems can be handled by the dentists attached to the clinic. Due to affordable rates and charges of the procedures and treatments, it is possible to continue treatment for a long period of time. Dr Venkat Nag and Dr Ankitha have carved a niche for themselves as the best dentists in Hyderabad offering solutions for the most serious dental issues.
Address:8-2-598/A/1, Road No, 10, Near Star Hospitals, Banjarahills, Hyderabad, Telangana - 500034
Contact Number:9177671117
Dr. Gowd's Dental Hospitals
When you are looking for the best dental hospitals in Hyderabad, you are sure to find the name of Dr Gowd's Dental Hospital. This hospital aims at providing dental care services for the whole family at the most affordable rates. Established way back in the year 1967, this hospital has been catering to the needs of patients with dental problems since that time. Over the years, it has upgraded itself and provides services in the fields of cosmetic dentistry, dental laser treatments, invisible braces and almost all kinds of advanced dental care treatments to patients. Some of the best and top-level dentists of Hyderabad are attached to the hospital. Prior appointments have to be booked for consultation with a dentist at the hospital. However, emergency services are also offered.
Address:19, Durga Enclave, Road No 12, Banjara Hills, Hyderabad, Telangana - 500012
Contact Number:04023326888

Smiline Dental Hospitals
Smiline Dental Hospitals in Hyderabad has been providing high-quality dental treatment to patients ever since its inception. The hospital works with the aim of providing the best kinds of dental treatments and services to patients along with unprecedented hospitality. This helps in keeping the patients relaxed and comfortable. Some of the most successful and eminent dentists of Hyderabad are attached to the hospital and they strive to provide the best for the patients. You will get appointments for different dentists at the hospital as per your choice and convenience.
Address:Smiline House, Srinagar Colony Road, Panjagutta, Hyderabad, Telangana - 500082
Contact Number:040 42000024

Apart from the above mentioned dental hospitals in Hyderabad, there are separate dental clinics and personal chambers of dentists in the city. You can visit them as well. It is recommended to look for suggestions and testimonials of dentists in Hyderabad and then visit them. You can ask your friends for recommendations and then choose accordingly. Finding the right dentist and the dental hospital is not as easy as it looks, but when you find one (from online and offline resources), all the dental issues are sorted and taken care of!