List of Best Government Hospitals In Delhi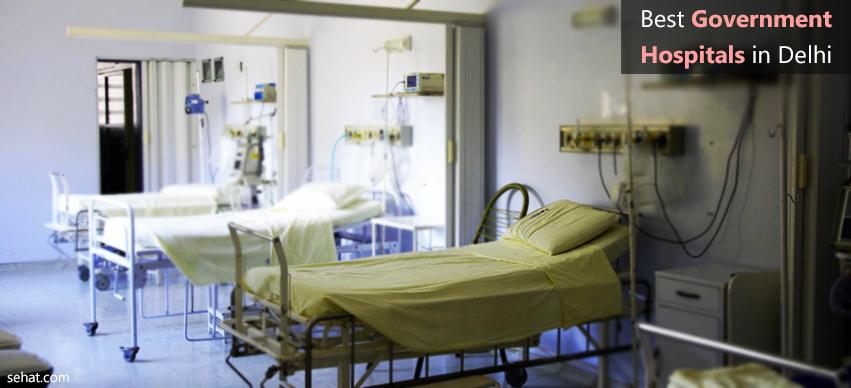 There is always a disappointment concerning our government health sector because of poor availability or accessibility of doctors and medicines. But currently, some of the best government hospitals in delhi are capable of handling even the most challenging health disorders.

These hospitals assist with state of the art equipment, latest technology, genuine facilities, qualified and experienced professionals to handle diseases of all types and patients of all kinds. What makes government hospitals unique even today is their affordable costs, and that's the reason they attract the crowd.


You get all the specialty sections under one roof in the government hospitals of Delhi. So, if you are looking for affordable and inexpensive treatment in Delhi, you should keep this list. Let us know more in detail about Top best government hospitals in delhi and learn the significance of our health sector.
1. All India Institute Of Medical Sciences (AIIMS)
All India Institute Of Medical Sciences is one of India's most reputed hospitals Located in Ansari Nagar in Delhi. AIIMS is also a medical research center and is established in the year 1956. AIIMS functions under the ministry of health and family welfare.
Benefits
World-class clinical care
Providing hi-tech facilities along with its well-equipped buildings
An online appointment system is more effective for patients, gets an appointment within 24 hours.
The speciality centres in AIIMS includes Cardio-Thoracic Sciences Centre, Neurosciences Centre, Apex tram centre, Dental research centre etc.
Phone No: 011 2658 8500
2. Safdarjung Hospitals
Safdarjung Hospital is located in Ansari Nagar on the Ring Road, Delhi, right opposite to AIIMS and was founded in 1942. It is one of the largest government hospitals in India before AIIMS, it was the only tertiary care hospital in the entire territory.
Benefits
In Safdarjung Hospital, its services are almost free, except for some minor charges for CT scan and a few other services.
There is no fee for consultation and operative procedures.
Poor patients have to show their BPL (Below Poverty Line) card and the treatment cost is almost funded by the government.
Phone No: Hospital EPABX: 011-26165060, 011-26165032, 011-26168336
Medical Supdt: 011-26190763
Main Casualty: 011-26194690
3. Lok Nayak Jai Prakash Narayan Hospital
Lok Nayak hospital is located in Jawaharlal Nehru Marg in New Delhi connecting all major railway stations and local areas in the city. The Hospital was founded by Lord Irwin. It is in the list of one of the Best hospital in Delhi, where consultation, medicines, and food are offered free to all the
Phone No: EPABX 23236000, 23236000
4. G.B. Pant Hospital
Govind Ballabh Pant Hospital is one amongst the leading Delhi hospitals and tertiary care centers within the country. The hospital was started in the year 1961. It is an internationally recognized tertiary care hospital to treat Heart, Brain, Gastrointestinal and psychiatric disorders. It treats more than three lakh patients every year.
Benefits
Patients attending OPD or admitted in General Wards of the Hospital are treated free of cost.
Provides free food under the guidance of the dietician to all admitted patients
Red alerts facility which is a stand-by facility for VIP medical care.
Phone No: 011 2323 4242
5. Guru Tegh Bahadur Hospital
Guru Tegh Bahadur Hospital is Located in Dilshad Garden, New Delhi and was established in 1979. They contribute with the world-class Neurosurgery equipment, Computed Tomography (CT scan), Special Burn care unit, Thalassemia center, Dialysis unit-both peritoneal dialysis, and hemodialysis.
Phone No: EPABX-22586262
Casualty-22588383
6. Deen Dayal Upadhyay Hospital
Deen Dayal Upadhyay Hospital was started in 1970. The hospital is located in Clock Tower Chowk, Hari Nagar, New Delhi. It is one of the best hospitals in Delhi for Plastic surgery, neurosurgery and psychiatry and also all other departments such as pathology, surgery, and radiology.
Phone No: 011 2549 4402,
Casualty : 25494336 (24 HOURS) 25492463
HOD - Emergency : 25125393
7. DR. Ram Manohar Lohia Hospital
Ram Manohar hospital was founded in 1932 by the British Raj to serve their government staff. It is located in Baba Kharak Singh Marg in Connaught place and is well connected with every part of Delhi and nearby states.
Phone No: 011-23404286
Medical Emergency: 91-11-23365525
8. Lala Ram Swarup T.B. Hospital
The hospital is located in Sri Aurobindo Marg, Mehrauli nearby Qutub Minar. It is known as a tuberculosis hospital in Delhi.
It conducts ongoing research on TB and on ways to remove it completely from society.
Phone No: 098378 04756
9. SMT Sucheta Kriplani Hospital
Smt Sucheta Kriplani Hospital is a General Health Hospital in Connaught Place, Delhi. The hospital was founded in 1916 and is familiar for its specialties such as Pathology and forensic medicine.
Phone No: 011 2336 3728
10. Baba Saheb Ambedkar Hospital
R. Baba Saheb Ambedkar hospital is a multispecialty hospital which offers services in Neurosurgery, Nephrology, Pulmonology, and Urology. The hospital is located at SEC-6 Rohini, Delhi.
Phone No: 073060 39903
11. Aruna Asaf Ali Government Hospital
This hospital is the oldest hospital in Delhi and is also known as the Police Hospital. At the beginning, this hospital was providing medical facilities to Delhi Police personnel only. But now it is open for all the civilians and is also handling Post-mortems of the whole of Delhi and its administration also looks after the Mortuary at Subzi Mandi which is the oldest and biggest mortuary in Delhi. The hospital's facilities include Online OPD, IPD and large storage of Medicines. This hospital also looks after 60 bedded Poor House Hospital, which is situated in Sewa Kutir Campus in Kingsway Camp.
Phone No: 011-23965532, 23831524
12. Guru Gobind Singh Govt. Hospital
Guru Gobind Singh Govt. Hospital was established in Raghubir Nagar, West Delhi under Delhi Gov. with a view to providing health care facilities to the low socioeconomic group of people in the region.
Phone No: 25988532, 25984549
13. Sanjay Gandhi Memorial Hospital
Sanjay Gandhi Memorial Hospital was established in April 1986. It government at S- Block Mangolpuri, Delhi. The Hospital is providing free healthcare facilities of OPD, casualties, Indoor & Emergency Services along with free drug distribution and investigations for patients.
Phone No: 097002 12784
14. Attar Sain Jain Hospital
This is a primary level Eye & General hospital and provides medical care to all patients who come to this hospital. It is located in Lawrence Road, Industrial Area, New Delhi.
Phone No: 27188342, 23654664
15. Acharya Shree Bhikshu Hospital
Acharya Shree Bhikshu hospital was established in the year 1996 for the people and situated in Moti Nagar, New Delhi. They have the aim of providing the best healing and preventive health care services to the community.
Phone No: 011 2542 3514

Note - We have listed these government hospitals based on several sources. Please contact the hospital before you make a consultation with them.