Best Female Psychiatrists In Bangalore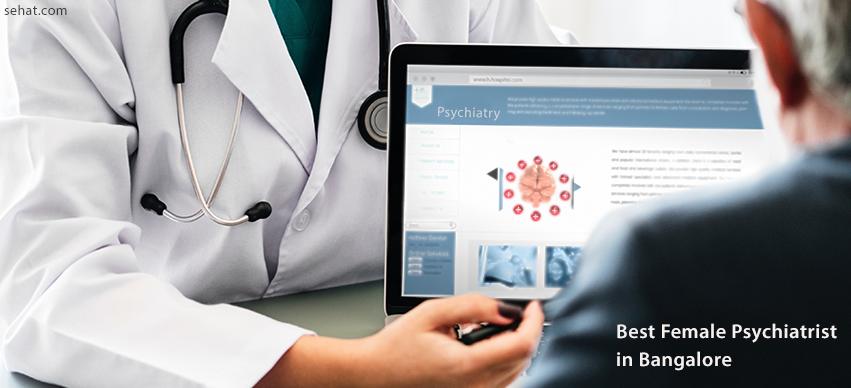 It has been said time and again, an individual is said to be completely fine and fit when both his mental as well as physical health is in proper order. Majority of people just concentrate on physical health and ignore the mental health of the person. Psychiatrists are doctors, who take care of the mental health of individuals and solve issues related to the mind. There was a time when people thought that visiting a psychiatrist means that the patient has become insane, but it is not so. Nowadays it is recommended to visit a psychiatrist for maintaining proper mental health. Psychiatrists carry out counselling sessions under the psychological state of the patient and offer treatments likewise. You can visit the best psychiatrist hospital in Bangalore. If you are a woman and want to seek psychiatric consultation from a female only, you can also look for the best female psychiatrist in Bangalore.
10 Best Female Psychiatrists In Bangalore
Along with male psychiatrists, the numbers of female psychiatrists are increasingly offering the best treatments and counselling sessions to patients coming to them for assistance. Mentioned below are top 10 lady psychiatrists in Bangalore:
1. Dr Meena Gnanasekharan
Dr Meena Gnanasekharan should be your one-stop destination if you are looking for the best lady psychiatrist in Bangalore. With the experience of more than 20 years in the field of psychiatry, she is an expert at child, adolescent and adult psychiatry. Some of the areas in which she specializes include mood disorders (bipolar spectrum and major depressive disorders) and anxiety disorders (social anxiety disorders, phobias, and OCD). She has her chambers in various parts of Bangalore and charges INR 2000 for her consultation.
2. Dr Madalsa Agrawal
With the experience of just 7 years in the field of psychiatry, Dr Madalsa Agrawal has her practice at Carefit Medical and Diagnostic Center in HSR Layout, Bangalore and at Mind. Fit. She is a member of the Indian Medical Association (IMA), Indian Psychiatric Society and Indian Association of Private Psychiatry. The areas of services provided by the doctor include Stress Management, Cognitive Behavioral Therapy, Obsessive Compulsive Disorder Treatment, Marital/Marriage Counseling, Migraine Treatment etc. She charges INR 1750 for the services.
3. Dr Vyjayanti Bonanthaya
With 31 years of experience, the doctor is well known for her impeccable psycho-pharmacological management. Her passion for adult psychiatry is known and she uses intensive and aggressive psycho-pharmacological management with psychosocial interventions. Dr Vyjayanti Bonanthaya works at Manipal Hospital in Bangalore. She has offered psychological assessments and treatments for various complex cases and helped patients in recovering from the same. Her charges are slightly manageable at INR 750.
4. Dr Sarika Manoli
Dr Manoli emphasizes on providing high-quality care to her patients and helps them out as much as possible. This best female psychiatrist in Bangalore practices at Sai Neuropsychiatry Clinic at BTM Layout, Bangalore. With over 13 years of experience, she excels in abnormal behaviour treatment, sex addiction counselling, cognitive behavioural therapy etc. She is also an excellent relationship counsellor. Innumerable patients have gained positively after consulting the psychiatrist with their problems. She charges INR 900 at the clinic for the offered consultation.
5. Dr Annie Mathew
When you are looking for a lady psychiatrist in Bangalore Indiranagar, Dr Annie Mathew is bound to be your first choice. With an MD in Psychiatry, the doctor is passionate about learning more in the field. She works towards the treatment of depression and uses various kinds of non-invasive brain stimulation methodologies for the same. She and her team work by combining the best of Western and Eastern philosophies for the highest levels of functioning. She is currently attached to Seraniti at Indiranagar, Koramangala, and Pune.
6. Dr Ashlesha Bagadia
Dr Ashlesha Bagadia is highly qualified with MBBS followed by Fellow of the Royal Australian and New Zealand College of Psychiatrists, MRCP (UK) Psychiatrist. The doctor has an experience of 18 years and she is currently attached to People Tree Hospitals and People Tree Margaa. She has carved a niche for her anger management skills. She charges INR 1000 for the consultation services she offers to patients.
7. Dr Samyuktha Gangadhar
When you are looking for the best psychiatrist in Bangalore outside NIMHANS, you can endow your trust completely on Dr Samyuktha Gangadhar. The doctor has experience of 10 years, with about 5 years of teaching experience at Kempegowda Institute of Medical Sciences. She also has extensive experience in treating various kinds of psychiatric issues including marital counselling, psychotherapy, addiction psychiatry, geriatric psychiatry etc. She charges in the range of INR 1000-1200 and is attached at several places including Apollo Clinic, Phoenix Hospital and Parkmed.
8. Dr Shobha Krishna
Dr Shobha Krishna is quite a popular name when it comes to the best psychiatrists in Bangalore. She has qualified from the Royal College of Psychiatrists and has work experience in India as well as abroad. With the experience of more than 10 years, she specializes in adolescent psychiatry, psychotherapy, neuropsychiatry, learning disabilities, liaison psychiatry etc. She is also a senior research fellow from NIMHANS. She is currently attached to Apollo Hospital in Bangalore at two locations namely Jayanagar and Bannerghatta Road respectively. She charges INR 1000-1100.
9. Dr Suhasini Das
Dr Suhasini Das is one of the most reputed psychiatrists in Bangalore with an experience of 6 years. After completing graduation from Gauhati Medical College, she completed her MD-Psychiatry from Central Institute of Psychiatry, Ranchi University. She is currently attached to Apoorva Diagnostic and Health Care, Indiranagar, Bangalore. The charges for her consultation are INR 500.
10. Dr Priya Raghavan
When you are looking for the best female psychiatrist in Bangalore, you cannot miss Dr Priya Raghavan. With vast experience of 18 years, she has been working in UK as consultant psychiatrist covering innumerable cottage hospitals and three extremely busy district general hospitals. Her study in Old Age Psychiatry needs special mention for sure. She specializes in adult and geriatric psychiatry. She relocated to Bangalore in 2017. She has dealt with serious complex psychiatric conditions like dementia, addiction, schizophrenia, depression etc. She is currently attached to Cadabams Hospital and Healthy Mind Clinic. She charges INR 750 for her consultation.