10 Best Lady Gynecologists In Jaipur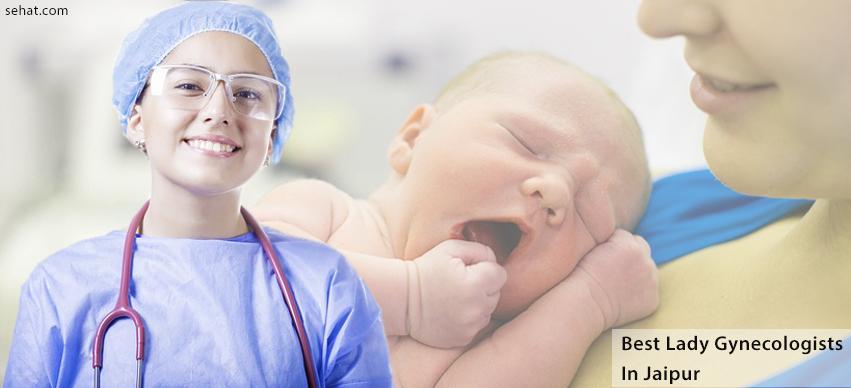 Gynecology is the field of medicine which concerns the female reproductive system in women of all age groups. Various stages in a woman's life beginning from puberty to maternity to motherhood bring various changes in the body and the mind of a woman. Many women face different kinds of problems and complications during the stages and these problems are handled by gynecologists.
A gynecologist deals with general health and ailments of the female organs namely vagina, ovaries, uterus, breasts, fallopian tubes etc. Gynecologists ensure taking care of patients with issues in the female reproductive system, right from routine primary care to preventive care, from surgical to medical management, from pregnancy to delivery, from the beginning of menstruation to menopause etc. Consult the best lady gynecologist in Jaipur for seeking solutions to all kinds of gynecological issues. Apart from visiting private chambers and OPDs in private hospitals, you will also find some excellent gynecologist in Jaipur. Mentioned below is a list of best female gynecologists in Jaipur
1. Dr Aparna Agarwal
Dr. Aparna Agarwal (MBBS, MS-Obs. Gyn) owns an individual Fertility Clinic and Hyperbaric Oxygen Treatment Center in Jaipur. As an experienced gynecologist, she emphasizes the importance of good reproductive health for the female body as well as for the progeny. Regular checkups and treatments should be done for the proper reproductive health of women. With a minimal fee of just INR 150, she attends to each of her patients with a lot of care and compassion.
2. Dr Vibha Chaturvedi Sharma
Dr. Vibha Chaturvedi Sharma one of the most popular and well-known lady gynecologists in Jaipur. She is MBBS, MS-Obstetrics, and Gynecology, Fellowship in Laparoscopy. She offers consultation at Rukmani Birla Hospital as well as at her own clinic. Some of the areas in which she specializes include normal vaginal delivery, cesarean delivery, infertility evaluation and treatment, IVF methods, uterus removal, non-invasive hysterectomy etc. Her consultation fee is quite affordable which is INR 300 at her own clinic.
3. Dr Sunita Kothari
With her career spanning over 35 years, Dr. Sunita Kothari is a name among the top gynecologists in Jaipur. Her expertise and sound understanding in this field have helped in providing the best services for all kinds of patients with gynecological problems. She has helped many patients in having a smooth pregnancy and a happy motherhood. Dr. Kothari is a specialist in puberty problems, infertility, menopause treatments, neonatal care, tubectomy, and hysterectomy. The lady gynecologist can be consulted at Shree Sumangal Polyclinic and Hospital. Her fees is INR 400.
4. Dr Anupama Gangwal
One of the leading lady gynecologists in Jaipur is Dr. Anupama Gangwal. Along with sorting out issues related to gynecology, she also offers excellent treatments for hair and skin issues. Some of the treatments in which Dr. Gangwal is expert at include gynecological cancers, pelvic organ prolapse, uterine fibroids or myomas, urinary problems, ovarian cysts, endometriosis, menopause, subfertility, various vulva conditions, cervical/vaginal diseases etc. The treatments are offered at her clinic, which is highly equipped with the latest technology and state-of-the-art facilities.
5. Dr Neelam Bapna
An MBBS, MS-Obs, and Gyn, Dr. Neelam Bapna is an infertility specialist. She is currently attached to Shivani Fertility and IVF Center. Some of the areas in which the doctor excels include that of vaginal dryness, ovarian cysts, irregular and improper menstrual flow, and most importantly infertility. Services of IVF and surrogacy are also offered at the hospital. Many people come for infertility treatments and family planning at the hospital. The doctor charges a minimal fee of INR 200 for the consultation.
6. Dr Himani Sharma
Attached presently to the Women's & Heart Clinic, Dr. Himani Sharma has been serving patients in the field of gynecology for the past 14 years. She is a highly loved and revered doctor with her patients for her amiable behavior. Some of the areas in which she offers excellent consultation include hormonal changes during pregnancy, infertility, vaginal and intrauterine distress, menstrual issues and puberty problems. With an accurate diagnosis, she offers impeccable treatments. She charges just INR 300 for her consultation.
7. Dr Savita Bansal
With a career spanning over 25 years, Dr. Savita Bansal has carved a reputation for herself as one of the best lady gynecologist in Jaipur. The doctor is considered as an expert in fields like problems related to puberty, infertility, menopause treatments, neonatal care, tubectomy, hysterectomy etc. She has a large number of patients whom she has treated during the crucial phase of pregnancy and motherhood. She is extremely popular among her colleagues as well. Attached to Manipal Hospital, her consultation fee is INR 300.
8. Dr Anita Narula
A very senior gynecologist in Jaipur, Dr. Narula has been in this profession for the last 40 years. She has helped innumerable mothers pass through the period of pregnancy and enter motherhood. Special mention needs to be made of her exceptional diagnosis and compassionate and friendly behavior. With consultation charge of just INR 200, she excels in areas like ovary removal surgery, uterus removal surgery, gynae and obstetrics problems etc. She currently attends patients at Doctor's Chambers.
9. Dr Rekha Jain
Dr. Rekha Jain has completed her MBBS and MS – Obs. & Gyn. and is currently attached to Mansarovar Hospital in Jaipur. She offers treatments to women suffering from various kinds of gynecological issues – right from minor ones to complex cases. Her track record of healing patients is quite impressive. She has expertise in the area of infertility treatment and has helped many couples become parents by overcoming the problems. Her fees is slightly higher at INR 500.
10. Dr Gunjan Sharma
After spending a time span of 18 years in the medical field, Dr. Gunjan Sharma is definitely one of the most reputed lady gynecologists in Jaipur. Presently she is attached to Chandrabhan Hospital and Maternity Center where she offers her valuable suggestions and consultations to patients who come there for treatment of various kinds of gynecological issues. She is helpful and has a friendly attitude. With the consultation fee of just INR 200, she has brought smiles to many patients. With this list of best lady gynecologists in Jaipur, choose the one you find most suitable.