Top Cancer Research Institutes In India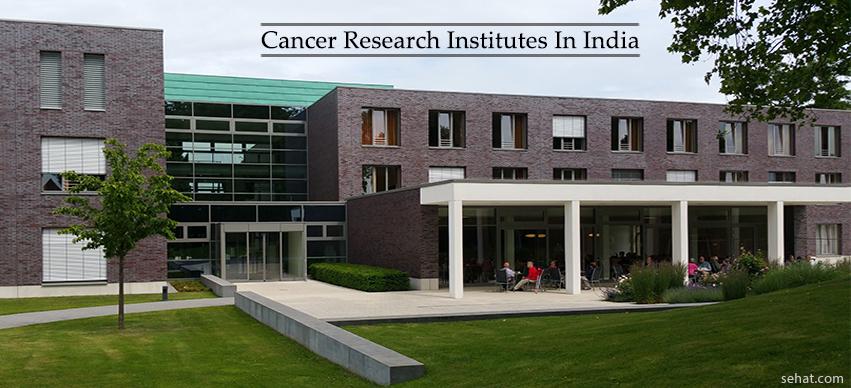 Cancer is the second most common non-communicable disease responsible for maximum deaths of people worldwide. Despite newer innovations in diagnosis and effective therapeutic measures, cancer cases have risen dramatically over the past decade and therefore cancer remains to be a major cause of concern for the health care providers all over the world. Since India is home to such a large number and variety of cancer cases, there are certain hospitals which are included among the top 10 cancer research institutes.
List Of Cancer Research Institutes In India
1. Tata Memorial Hospital, Parel, Mumbai
Tata Memorial Hospital in Mumbai, established in the year 1952, is one of the best Advanced Cancer Research Centre for Treatment, Research, and Education in Cancer. This hospital provides free treatment to almost 70% of its cancer patients.
Some Research Works
A study of stem cells in skin, solid and blood cancers.
Monitoring of chemo and radiation resistance in vitro and in vivo using complex vector systems.
Establishment of in vivo imaging techniques for diagnosis and treatment of cancer.
Monitoring of complex intra and intercellular molecular networks using confocal microscopy.
Monitoring of the distribution of specific labeled molecules using micro PET-SPECT–CT to evaluate their diagnostic and therapeutic potential.
Characterization of somatic mutations in cancer using an integrated NextGen sequence approach combined with high-end computing and bioinformatics.
Investigations into cancer biology have provided insights into the role of histone modifications in gene regulation, and that of specific molecules/ molecular networks in regulating the cell cycle, DNA damage and repair, and cell transformation.
A study to examine the role of glycosylation in cell invasion and metastasis has revealed the intricacies of sugars and their engagement with cell surface molecules.
The study of gamma delta T-cells has provided beneficial insights into immune surveillance mechanisms in cancer.
In-depth analysis of the chemopreventive action of curcumin and tea poly-phenols has led to the identification of mechanisms that operate in vivo.
Address: Tata Memorial Hospital, Dr. E Borges Road, Parel, Mumbai - 400 012 India
Contact number: 022-24177000/ 24146750/ 55
2. Regional Cancer Centre (RCC), Thiruvananthapuram
RCC is a state-owned cancer research institute sponsored by the Government of Kerala and the Government of India. It also gets some financial aid from the Indian Cancer Society.
Some Research Works
RCC became the first cancer center to produce morphine capsules in 2007.
Molecular genetic analysis BRCA2 gene mutations and pathology in Breast and Ovarian cancer.
Genetic susceptibility studies in lung cancer
Germline Mutation Analysis of Mismatch repair genes in familial colorectal cancer patients.
Role of Germline polymorphism of few low penetrance genes in Familial breast cancer.
Cytological analysis of sputum – the simplest and preliminary method of lung cancer diagnosis – a retrospective analysis of 8690 samples of symptomatic patients.
Potential biological markers for the staging of tumor progression in oral mucosa – a multivariate analysis.
Address: Medical College Campus, Medical College Road, Thiruvananthapuram, Kerala 695011
Contact number: 0471-2442541
3. Adyar Cancer Hospital, Chennai
Adyar Cancer Hospital is one of the most famous cancer research centers in India and it is a public charitable voluntary institute for cancer care since the last 60 years. It is also known as the cancer institute (WIA). This cancer hospital is equipped with the latest technologies and has both research and preventive facilities for cancer patients. This hospital successfully performs numerous cancer surgeries every year.
Some Research Works
Cell cycle regulatory molecules in cervical cancer
BCL-2 and p53 expression in cervical cancer
Study of type-1 tyrosine kinase growth factor receptors and their growth factors in breast and cervical cancer.
PCR based detection of minimal residual disease in acute lymphoblastic leukemia.
Molecular genetic analysis of hereditary breast and ovarian cancer patients in India.
Expression of human chorionic gonadotropin beta in gastric carcinoma – a retrospective immune-histochemical study.
Role of GSTM-1, P53 and GSTP-1genetic polymorphisms and the risk of breast cancer – a case-control study from South India.
Address: Sardar Patel Road, Adyar, Chennai – 600020
Contact number: 044-24911526
4. Kidwai Institute of Oncology (KMIO), Bangalore
Kidwai institute is an academic cum research institute which provides cancer care facilities to patients at affordable prices. For patients who are economically poor, they provide services with the assistance of Government Relief Funds. Monetary assistance is provided for diagnosis and treatment of underprivileged people by the government of Karnataka, which works along with the institute to run these schemes.
Some Research Works
Acute toxoplasmosis in non-stem cell transplant patients with hematological malignancies – a study from South India.
Surface, core, and X-genes of hepatitis B virus in hepatocellular carcinoma – an in situ hybridization study.
Gene expression profiling in breast cancers
Genetic predisposition to breast and ovarian cancer among Indian women. Role of BRCA1 and BRCA2 genes.
Patient's attitude towards chemotherapy as assessed by patients versus physician – a prospective observational study in advanced non-small cell lung cancer.
Address: Dr. M H Marigowda Road, Near Bangalore Dairy, Bengaluru – 560029
Contact number: 080-26094000
5. Apollo Hospitals
Apollo Hospitals is a popular chain of hospitals which has several branches all over India. Apollo hospitals were first in having a PET CT Scanner and latest technologies for radiation therapy and radiosurgery. Apollo cancer centers all over India have a group of experienced oncologists to interact with patients for better cancer treatment. It is India's first ISO certified healthcare provider and ranked among the top super specialty hospitals.
Some Research Works
Efficacy and safety of granulocyte macrophage-colony stimulating factor (GM-CSF) on the frequency and severity of radiation mucositis in patients with head and neck carcinoma.
Primary lymphoma of the breast: a clinicopathological study.
Evaluation of HER-2/neu status in breast cancer specimens using immunochemistry and fluorescence in situ hybridization (FISH) assay.
6. Jawaharlal Nehru Institute of Post Graduate Medical Education And Research
This institute is a medical college as well as a research hospital which comes under the direct administrative control of Directorate General of Health Services, Ministry of Health and Family Welfare, India.
Some research Works
Efficacy of hypogastric sonography and spiral computed tomography in the staging of gastric carcinoma – a comparative study.
Mechanism of transcription regulation through chromatin in humans with special reference to disease and cancer.
Gene-environment interactions associated with CYP 1A1, MspI and GST polymorphisms and the risk of upper aerodigestive tract cancers in an Indian population.
Genetic polymorphisms of glutathione S-transferase genes and upper aero-digestive tract cancer risk among smokers, tobacco chewers and alcoholics in an India population.
Address: JIPMER, Dhanvantri Nagar, Gorimedu, Puducherry-605006
Contact numbers: 0413-2271301/ 302/ 303, 0413-2296000
7. Max Institute of Cancer Care
Max Institute is one of the leading cancer care hospitals in India. It has its chains in Punjab and Gurgaon. In India, Max Hospital was the first facility to acquire Novalis Tx for IMRT/IGRT, Radiosurgery, HIPEC, and SRS/SRT. The institute specializes in the treatment of organ-specific cancer care such as lung cancer, head cancer, neck cancer, blood cancer, breast cancer, cervical cancer, and gastrointestinal cancer.
Some Research Works
Palliative bio-chemotherapy (cetuximab) of head and neck cancers
Concurrent bio-radiotherapy of head and neck malignancies.
The unusual response of refractory solid tumors to thalidomide.
Palliative weekly chemotherapy along with cetuximab in recurrent and metastatic head and neck cancers – a retrospective analysis.
Neoadjuvant chemotherapy of cervical cancers
Appointment call: 918860444888, Landline: 01130751000
Emergency Number: 01140554055
8. Postgraduate Institute of Medical Education and Research Institute, Chandigarh
Postgraduate Institute of medical education is constantly involved in research activities for the rural and community-related environment and health problems.
Some Research Works
Expression of c-Erb B2, 3, 4 and their isoforms in gynecological malignancies.
Gynecological oncology – identification of biomarkers useful in early diagnosis, prognosis, and prediction of response to radiation and chemotherapy.
Methylation profiling of genes to identify a suitable panel capable of prediction of response to radiation therapy in invasive cervical carcinoma.
Optimization of high-dose-rate intra-cavitary brachytherapy schedule in treatment of cervical carcinoma.
Post-mastectomy radiation and survival in patients with breast cancer.
Serum leptin – a marker of prostate cancer irrespective of obesity.
Address: PGIMER, Sector-12, Chandigarh-160012
Contact number: 0091-172-2756565
9. Institute of Cytology and Preventive Oncology
The institute is now called the National Institute of Cancer Prevention and Research.
Some Research Works
Effect of aberrant promoter methylation of FHIT and RASSF1A genes on susceptibility to cervical cancer in a North Indian population.
Screening for Cancer of Cervix by Aided Visual and HPV tests in a Rural Community
Elimination of high-risk human papillomavirus type HPV16 infection by 'Praneem' polyherbal tablet in women with early cervical intraepithelial lesions.
Human papillomavirus type 16 variant analysis of E6, E7, and L1 genes and a long control region in biopsy samples from cervical cancer patients in north India.
Association of cyclin D1 gene polymorphisms with risk of esophageal squamous cell carcinoma in Kashmir Valley-A high-risk area.
Association of single nucleotide polymorphisms (SNPs) in TNF-LTA locus with breast cancer risk in the Indian population.
Infection of human papillomaviruses in cancers of different human organ sites.
Address: 1-7, sector-39, Noida, District Gautam Buddha Nagar, Uttar Pradesh-201301
Contact number: 91-120-2446938
10. Central Drug Research Institute, Lucknow, Uttar Pradesh
The latest research department "Cancer Biology and Related Areas" is a new addition to the Central Drug Research Institute. This research center has a team of highly committed scientists and research scholars from biological and chemical sciences having great skills and knowledge in the field of cancer biology.
Some Research Works
In vitro and in vivo anti-cancer activity of 2-deacetoxytaxinine J and synthesis of novel taxoids and they're in vitro anticancer activity.
Cell growth inhibitory action of an unusual labdane diterpene, 13-epi-sclareol in breast and uterine cancers in vitro.
Interleukin 1 Receptor Antagonist (IL-1Ra) Polymorphism in Patients with Prostate Cancer and Benign Prostatic Hyperplasia – a case-control study from North India.
Altered VEGF mRNA stability following treatments with immunosuppressive agents: implications for cancer development.
Over-expression of vascular endothelial growth factor and the development of post-transplantation cancer.
Address: Sitapur Rd, Sector 10, Jankipuram Extension, Lucknow, Uttar Pradesh 226031
Contact number: 0522 277 2450

Note - We have listed these cancer research centres based on several sources. Please contact the research centre if you need any further information.