Free Heart Surgery for Children in India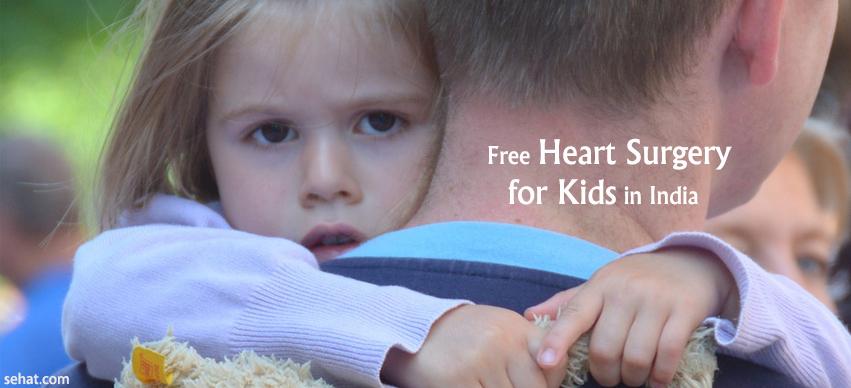 Innumerable children in India suffer from congenital heart ailments. Along with medications for dealing with the problems, surgeries are also required for treating serious heart problems. Many kids suffering from heart ailments belong to extremely poor families and they cannot afford the expense of surgery and medicines. To help such families and save the life of the kids, many hospital chains have come forward with the initiative of providing free heart surgery for kids. The responsibility of the entire treatment process is taken care of by these hospitals. Renowned heart surgeons, who otherwise charge handsomely for surgeries and other heart treatments, conduct heart surgeries.
Charitable Trusts Offering Help with Free Heart Surgery For Kids in India
There are many independent charitable trusts as well as trusts established by renowned hospital chains, which work towards the noble cause of making all arrangements for free heart surgery for kids. The way in which these trusts work is truly inspiring and amazing. Usually, these trusts set small camps in different parts of the country for identifying underprivileged children, who suffer from various kinds of congenital heart disorders and ailments. These disorders might need immediate or imminent heart surgeries for rectifying the problem at the earliest. The trusts take down details of the child along with the problems and recommend visiting particular hospitals, where free heart surgery is arranged for the kid.
People in rural areas have various kinds of wrong ideas and fears regarding congenital heart ailments. There are professional doctors in the trust, who help in dispelling the fear from the mind of the people. They inform people regarding the risks of the disease and also explain as how surgery can cure the problem of the root and help in leading a healthy life in the future. Recent research and survey reports have shown that thousands of underprivileged kids have benefited from free surgeries and are leading healthy lives now. Right from the investigations to the post-operative costing, everything is borne by the trust on behalf of the child. There is no compromise with the quality of the services offered during the surgery or before and after the same.
Popular Trusts and Organizations Helping with Free Heart Surgery for Kids in India
1. Happy Heart India
Do you know a child, below 12 years of age who needs cardiac surgery & cannot afford it? Happy Heart India (HAVE A HEART TO SHARE A HEART) is an initiative by Asian Heart Institute and supported by Hindi Film Actor Akshay Kumar to support 200 underprivileged children below the age of 12. They will evaluate every response, and ask for the child's birth certificate, echocardiogram, chest x-ray and other tests. If shortlisted, they will operate on the child free of cost!
Address: G / N Block, Bandra Kurla Complex, Bandra (E), Mumbai 400 051, Maharashtra, India.
Contact Number: 91-9930333500, +9122 6739 6666
Email: info@ahirc.com
2. Saving A Child's Heart Initiative (SACHI)

Saving a Child's Heart Initiative (SACHi) is a voluntary organization, probably the largest in Asia. This organization is solely dedicated to pediatric cardiac care and child heart surgery for people who are poor and underprivileged. Established in the year 2003 by Dr Prathap C. Reddy, Chairman, Apollo Group of Hospitals. This organization aims at providing early diagnosis, surgery, treatment and post-operative care for children suffering from congenital heart problems. Financial support is also provided to children, who belong to an economically weaker section of the society. The organization has touched the lives of more than 50,000 children till date.
Address: Apollo Hospitals Campus, Jubilee Hills, Hyderabad, Telangana 500033
Contact Number: 040 2355 1066
3. Children's Heart International Miot (CHIME)
'CHIME – Children's Heart Internationale Miot' is a completely charitable trust, which has been established by MIOT Hospitals. The main ambition of setting up this trust is providing funds for free heart surgeries in the country for needy children, who cannot afford the costs of treatment and surgery for congenital and rheumatic heart diseases. In association with MIOT Hospitals, CHIME arranges different kinds of camps in rural areas for identification of children suffering from congenital heart ailments. This organization mainly works in and around South India. Along with making all kinds of arrangements for heart surgeries, the trust also imparts education regarding heart health.
Address: 4/112, Mount Poonamalle Road Manapakkam, Chennai - 600 089 Tamil Nadu, India
Contact Number: +91 44 22492288 +91 44 42002288
Email: hip@miothospitals.com
4. Shri Sathya Sai Institute of Higher Medical Sciences
Shri Sathya Sai Institute of Higher Medical Sciences offers free heart surgery for kids. Located in E.P.I.P area in Whitefield, Bangalore, the hospital takes all responsibilities of a kid's heart surgery. Parents who are worried about their child's congenital heart disorder as they cannot afford surgery can contact this hospital and get the surgery done absolutely free of cost. The surgery is done by a renowned cardiac surgeon and the child can resume a normal and healthy life thereafter.
Address
: Sri Sathya Sai Institute of Higher Medical Sciences, EPIP Area, Whitefield, Bangalore 560 066, Karnataka, India
Contact Number: +91-80-28004600/28411500
Email: adminblr@sssihms.org.in

5. Kid Aid Foundation at Meenakshi Mission Hospital and Research Center (MMHRC)
Meenakshi Mission Hospital and Research Center (MMHRC) has started a foundation, namely Kid Aid Foundation for helping kids suffering from congenital heart ailments and similar problems. The best thing is that heart surgeries for the kids are offered free of cost for children who are underprivileged and cannot bear the costing of the surgery in any way. The funds for the surgeries and treatments are mainly collected from philanthropists and well-wishers who donate generously for a good cause.
Address: Lake Area, Melur Main Rd, Madurai, Tamil Nadu 625107
Contact NUmber: +91-452-2581212/ 98421 23232
Email: info@mmhrc.in