Government Dental Hospitals in Mumbai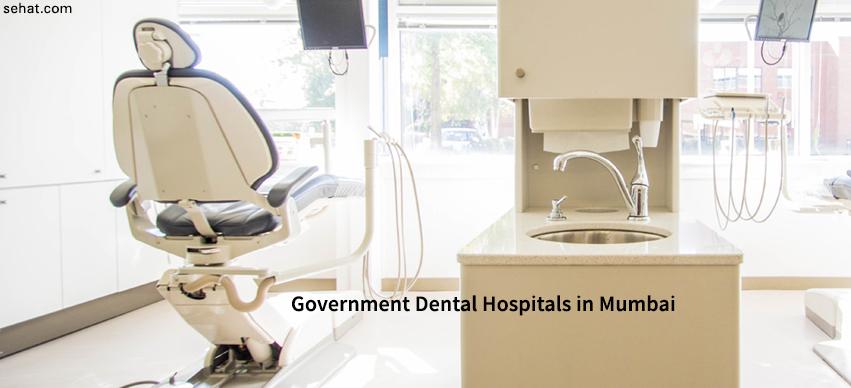 The human body is a complex system which is governed and maintained by a number of systems. Among all the different processes and system, our dental health becomes important because of varied reasons. Primarily, dental health is important to manage the overall health of our body's well being. This is because a slight issue in any part of the body, including our teeth, can affect the well being of our body and it simply cannot function effectively. Further, dental health is also important because of maintaining that healthy smile which is an integral part of our personalities. Therefore it becomes absolutely mandatory to maintain oral hygiene which is a life long commitment in order to maintain healthy teeth and gums. This would also prevent other life-threatening diseases such as diabetes, cancer, and heart diseases, which have been found to have a link with poor oral hygiene. While there are various dental clinics all across the country, including Mumbai, it becomes important to find out a relevant yet trustworthy Government Dental Hospitals in Mumbai.
List of Government Dental Hospitals In Mumbai
Mumbai, the financial capital of India, is known for its best infrastructure and facilities in almost all respects, including locating the best health care services and facilities around the town and even in the suburban areas. Therefore, it would not be difficult to find a dentist near one's locality in Mumbai. Among all the listed dentists and dental clinics across the important city of India, there are some of the prominent Government hospitals in Mumbai which provides adequate services and facilities in maintaining the dental health of the patients. Some of the Government dental hospital in Thane and the rest of Mumbai include
1. Government Dental College and Hospital, Mumbai
Established in the year 1938, the Government Dental College and Hospital in Mumbai is one of the most famous and premier institutes which not only serves the patients but also prepare the future dentists for a brighter and smiling India. This particular institution has earned various accolades such as earning a regular place among the top three dental colleges in India since the last seven years according to the Outlook magazine ranking. Amidst the state of the art equipment and facilities, this particular hospital provides services under various departments such as Conservative Dentistry and Endodontics, Oral Medicine, Diagnosis, and Radiology, Prosthodontics, Periodontics and Community Dentistry, Oral Pathology and Microbiology, Oral and Maxillofacial Surgery, Pediatric and Preventive Dentistry, Orthodontics, and Public Health Dentistry.
Address Of The Hospital: P D'Mello Road, St. George Hospital, Near Chhatrapati Shivaji Terminus Area, Fort, Mumbai, Maharashtra 400001
Contact Number: 022-22620668
Website: http://www.gdcmumbai.org
2. Bharati Vidyapeetha Dental College And Hospital
Established in the year 2005, this dental college and hospital located in Navi Mumbai caters to the population of Mumbai and Navi Mumbai through its various departments such as Department of Prosthodontics, Department of Conservative Dentistry, Department of Periodontology, Department of Oral Surgery, Department of Oral Medicine, Diagnosis, & Radiology, Department of Pedodontics, Department of Orthodontics, Department of Community Dentistry, and the Department of Oral Pathology. Apart from the various departments related to dental treatment, the hospital also provides services under other departments such as Department of General Anatomy, Histology, & Embryology, Department of Physiology & Biochemistry, Department of Pharmacology, Department of Pathology & Microbiology, Department of General Surgery, and Department of General Medicine. The hospital is also a popular dental college educating and training the future batches of Dentists.
Address Of The Hospital: Sector 7, C.B.D Belapur, Navi Mumbai, Mumbai, Maharashtra
Contact Number: 022-27564654, 27564655
Website: http://dchmumbai.bharatividyapeeth.edu/
3. King Edward Memorial Hospital
Working with a motto of "Creating and Giving the Best Smiles to Everyone", the dentistry department of the hospital was established in the year 1926. This particular dental department is the oldest among all other dental departments across various municipal corporation hospitals in Mumbai. This particular hospital provides all facilities including oral prophylaxis, tooth extraction, restorations with silver amalgam fillings, Gingivoplasty and Gingivectomy, restorations with glass ionomer fillings, diagnostic intraoral radiography, root canal treatments, partial dentures, Composite light cure fillings, dentoalveolar fractures, complete dentures, crowns and bridges, composite fillings, cysts, tumors, TMJ management, implant dentistry, apart from routine OPD. The dentistry department of King Edward Memorial Hospital also engages in providing services to medically compromised people, with their latest initiative being targeted towards providing dental care to hemophilic patients.
Address Of The Hospital: Acharya Donde Marg, Parel, Mumbai 400 012. India.
Contact Number: 91-22-2410 7000 Fax: 91-22-2414 3435
Website: https://www.kem.edu/dentistry/
4. Lokmanya Tilak Municipal General Hospital And Lokmanya Tilak Municipal Medical College, Sion Mumbai
Lokmanya tilak municipal hospital was established on February 1, 1956, under the initiative of the then-superintendent Dr. S.V. Joglekar, the dental OPD of the hospital was initially located at the old barracks which has now operative on the second floor of the OPD building of the hospital. The hospital also operates another dental OPD at UHC, Dharavi in order to attend to patients from and around Dharavi. The hospital offers the best facilities such as fiber optic air turbine, state of the art dental chairs, surgical micromotors, composite light cure unit, specialized dental x-ray machine, Piezotronic Scaler, and Pulse Oximeter to provide quality dental services, treatments, and care to the patients.
Address Of The Hospital: Dr. Babasaheb Ambedkar Road, Sion (West), Mumbai – 400022
Contact Number: 91-22- 2407 6381, 2406 3000, 2409 2020, 2408 2504
5. Hinduhridaysamrat Balasaheb Thackeray Medical College And Dr.Rustom Narsi Cooper Municipal General Hospital
Initially started as a Maternity Home in 1969, it was upgraded to become a General Hospital in 1970. The hospital was further renovated and redeveloped by MCGM and finally, the present hospital was inaugurated on November 30, 2013. Some of the procedures conducted by the Dentistry department of the hospital include open reduction and fixation of fractures (maxilla, mandible), trans-alveolar extractions of impacted wisdom teeth, excision of cysts and tumors of the jaws, fiber to my of oral submucous fibrosis release, temporomandibular joint surgeries, orthognathic surgeries, trans-alveolar extractions of root pieces embedded in the bone, biopsy of oral lesions, excision of mucocele, repairing dentoalveolar fractures, incision of facial space abscess and draining out such abscesses, closed and open reduction of mandibular and maxillary fractures and their fixation, root canal treatment, composite restorations, reduction of temporomandibular joint dislocations, injections (both intraarticular and intralesional), dental extractions, intraoral periapical x-rays, periodontal flap surgeries, oral prophylaxis, scaling, among others.
Address Of The Hospital: Bhaktivedanta Swami Marg, Juhu Scheme, Juhu, Mumbai, Maharashtra 400056
Contact Number: 022 2620 7254
Website: http://hbtmc.edu.in/dentistry