10 Famous Dental Hospitals in Hyderabad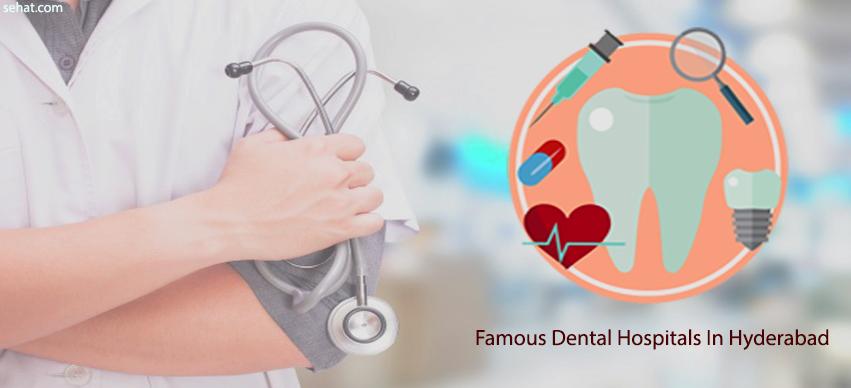 Once famous for its pearls, the city of Hyderabad is a thriving IT and pharma hub. The city attracts thousands of professionals from all over the country and beyond. If you're new to the city and maintaining good dental health and hygiene is perhaps one of your major concerns. Fortunately, there are a number of famous dental hospitals in Hyderabad that you can approach for dental problems that you or your family might face. So, if you're in search of the best dental doctor in Hyderabad, for your set of pearly whites, begin your search here.
10 Famous Dental Hospitals In Hyderabad
Sai Dental Care

Located in the Moti Nagar locality of the city, Sai Dental Care is ranked among the famous dental hospitals in Hyderabad and is noted for its expertise in the field of implantology. A dental surgeon with more than twenty years of experience, Dr. Bharat Reddy is associated with the hospital. Similarly, Dr. Chandrashekhar Reddy who is rated among the leading dental practitioners of Hyderabad can be consulted here. A BDS graduate of SB Patil Dental College, Dr. Chandrashekhar Reddy is also a PG Diploma holder in the field of clinical cosmetology. Specializing in dental surgery and implantology, he handles cosmetic/aesthetic procedures at Sri Sai Dental Hospital. The hospital is open for consultations on weekdays only, from 10 to 1 in the mornings and 5 to 9 in the evenings. The hospital is conveniently located opposite the Syndicate Bank branch on the main road, in Moti Nagar. You can book an appointment by calling up 40-33463564.

Siri Dental Hospital

It is one of the leading dental hospitals that provides cutting-edge laser gum surgery, presurgical, dentofacial and myofunctional orthodontics, smile design, teeth whitening, and a host of dental services in Hyderabad. At Siri Dental Hospital, patients can consult Dr. N. Srinivas who is an alumnus of MS Ramaiah Medical College, Bangalore and has specialized in dentofacial and orthodontal medicine, from PMNM College, Bagalkot. Siri Dental Hospital is also offering the services of Dr. Seetharam Kumar D, who specializes in impacted tooth extraction, dentures fixing, flap surgery, laminates, veneers, fixed partial denture and many more procedures. The hospital is located at Alampally Complex, Karmanghat Main Road. You can book a consultation by calling up 040- 64595274.

Vista Dental Studio

If you're staying in the Madhapur locality of Hyderabad, the Vista dental Studio will be your go-to spot for all dental related problems. The hospital features prominently in the list of dental hospitals in Hyderabad and is popular for the range of endodontics and conservative dentistry procedures it offers patients. Dr. Nikhil Saran, who has treated more than 6000 patients in a career spanning one and a half decades, practices at the hospital. He uses the latest technologies to ensure that his patients enjoy the painless treatment.

Vijay Multispecialty Dental Hospital

Vijay multispecialty is a dental multispecialty hospital that offers state of the art dental services to people in and around JP Nagar. Dr. Vijay Simha Raju leads the team of dental professionals who provide primary as well as tertiary dental health care at the hospital. You can book an appointment from Monday to Friday by calling up 040-40216155. The hospital is located at JP Nagar X Road, Above Allahabad Bank.

G C Dental world

Among the top-ranked dental hospitals in Hyderabad, GC Dental world is located in Indira Nagar, Gachibowli. You can easily book an appointment online to consult senior dentists like Dr. M.Sridhar and Dr. Chaitanya Kumar Reddy, who specializes in ceramic and metal bridges, advanced implants, complete dentures, removable dentures, teeth whitening, bridges, crowns, and a whole range of dental procedures.

VNN Hospital

This dental hospital is well known to the people staying in and around Begumpet area of the city. Here, Dr. Rajesh Vukkala is available for consultation and treatment on all days of the week. You can conveniently book your appointment online or contact them on phone no. 7071964870. VNN Hospital is located on Railway Station Road, Uma Nagar, Begumpet.

Dr. Lavanya Dental Care and Implant Centre

A reputed name in the dental care and implants sector, the hospital is headed by Dr. Lavanya B who comes with more than twelve years of experience. Located in Madhapur, the clinic is popular with the IT professionals who work and live in the hi-tech city. The dental hospital is located opposite the HDFC Bank branch in Madhapur. You can take an appointment by calling up 4039561522.

Vasan Dental Care

If you feel comfortable with corporate dental care chains, then Vasan Dental Care. With clinics spread across the city, you are sure to find a Vasan Dental Care clinic nearby you. The clinics provide services of thoroughly vetted dental professionals and modern equipment.

Clove Dental

This is another top chain of dental clinics that is fast making its mark among the famous dental hospitals in Hyderabad. A multispecialty hospital, Clove Dental offers a variety of dental services and has experienced doctors for patients to consult. You can either visit a Clove Dental clinic in your locality or make an appointment for a consultation at their Jubilee Park branch located on road no.92. For appointments, you can also call up 4030952064.
The Dental Specialists
As the name itself implies, this dental hospital specializes treatment and cosmetic procedures. Located in the posh Banjara Hills area of Hyderabad, The Dental Specialists is manned by experienced dental professionals like Dr. Venkata Ratna Nag who has more than two decades of experience. A regular at international dental conferences, Dr. Venkata Ratna Nag specializes in crown and bridge implants. His writings have been published in various national as well as international journals. Apart from practicing here, he also teaches at leading institutes and colleges. The Dental Specialists is open round the week and patients can schedule appointments between 9 AM and 9 PM, by calling up 040-71964876. The hospital is located opposite Mandir saree showroom, on road no.1, Banjara Hills.