Top 5 Heart Hospitals in India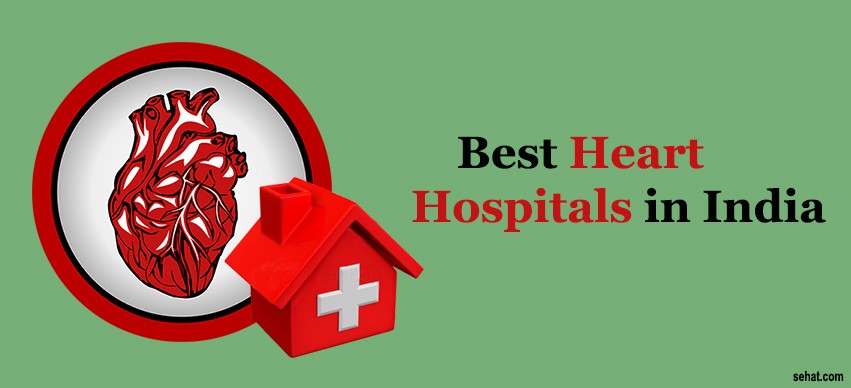 Heart health is something that has been bothering the country's population for quite some time now. Doctors always insist on regular heart checkups to detect cardiac disorders in their early stages so that the treatment becomes easier. Given our haphazard eating habits and crazy lifestyles, contracting health problems isn't a big deal anymore. Young children, teenagers, adults and the elderly are all equally falling prey to illnesses, especially those of the heart. Cardiac care has always been top notch across all government and private hospitals and we can proudly say that we have the best heart hospitals in India, in every nook and corner. With new advancements in this field, we have always set benchmarks be it research, detection or the treatment of cardiovascular problems. Take a look at the top 5 heart hospitals in India that are pioneers in heart health and the reason why they made it to the top list.
Escorts Heart Institute, Delhi
25years old in taking care of hearts, the Escorts Heart Institute in Delhi is a leader in paediatric cardiac care. Now known as Fortis Escorts Heart Institute, the hospital boasts of three centres in Delhi, one in Mohali and two new centres in Bangalore. Apart from cardiology, the hospital is backed by the most advanced laboratories in haematology, microbiology, transfusion medicine, radiology and biochemistry. The Week-Nielsen survey declared the Escorts Heart Institute as one of the best heart hospitals in India for its sheer dedication in managing more than 15,000 admissions and 7,000 emergency cases per year. Five cath labs, 285 beds and more than 200 cardiac doctors work towards making this hospital as the top heart hospital in India.
The Fortis Escorts Heart Institute is the first hospital in India to implant a pacemaker to a 102 year old woman from Delhi. Within a very short span of 20minutes, the instrument was placed in an elderly woman's heart, giving her a new lease of life. An Iraqi patient underwent the rarest cardiac procedures ever at this best cardiology hospital in India. Called the multi-layered flow modulator surgery, the procedure is done to provide relief from aorta aneurysm. This is a first in the entire Asia Pacific region.
Phone No
For Enquiry - (011) 47135000, (011) 26825000
Medanta Medicity, Gurgaon
Perhaps, the first hospital ever to begin telemedicine services to people in and out of the country is Medanta Medicity. A highly experienced and popular cardiac surgeon Dr Naresh Trehan had established this hospital in 2009 in Gurgaon. Within a couple of years, it turned out to be one of the best heart hospitals in India with 1200 beds, 45 operation theatres and 32 institutions to cater to all specialities in clinical care, education and research. In 2013, Medanta launched a unique and India's first Air Ambulance called Flying Doctors India that uses a special aircraft to transfer and treat patients from any place and any time. Providing critical care during transit is their main goal.
Robotic surgeries that are slowly on a rise are a common scene at Medanta Medicity and that is one reason why it is one of the best cardiology hospitals in India. The hospital offers robotic surgeries in cardiology, gynaecology and urology. The first ever cyber knife VSI technology is being used for cancer patients and those with inoperable tumours and lesions. Unlike conventional surgery, the cyber knife VSI doesn't leave scars and doesn't require anaesthesia. Doctors at Medanta Medicity are highly trained in this cutting edge technology and have been using the same for many complicated heart diseases.
Phone No
For Enquiry
- (0124) 4141414, (0124) 4411441
Narayana Hrudyalaya, Bangalore
The name itself indicates that it is indeed the right place for your heart. Recently baptized as Narayana Health, the hospital has always been rated the best cardiology hospital in India for its top notch cardiac care facilities with over 1500 super specialists working round-the-clock. The business model of Narayana Hrudyalaya is such a hit that it became a case study for the Harvard Business School. Being a top heart hospital in India, it performs 150 surgeries every day and more than 80,000 out patients visit the institute for tertiary care. Bone marrow transplant, coronary artery bypass grafting, valve repairs and left ventricular assisted device procedures are continuously performed on patients on a daily basis. Telemedicine was introduced for many remote villages in and around Karnataka and slowly the services were open to patients all around the world.
The Narayana Institute of Cardiac Sciences (NICS) is touted to be the best in cardiac health. Founded in 1997, it grew from a meagre 200 bed institute to a whopping 2,400 bedded chain of clinics. Though the hospital houses all major branches of medicine under one roof, its cardiac sciences department is one of the finest in India. Primary and acute coronary angioplasties, valvular interventions, stent implantation and aortic valve replacements are handled by highly trained professionals at CARE hospital.
India's first cardiac MRI was performed here at CARE under the able guidance of highly qualified physicians. In Andhra Pradesh, this is the first hospital ever to initiate cardiology services to the common public. Earlier, heart surgeries cost a fortune to people but CARE made them very affordable. The founder of CARE hospitals, Dr Bhupathiraju Somaraju developed the first intra coronary stent in Asia. It was called the Kalam – Raju stent, the first-of-its-kind in India. CARE is the first to perform a balloon angioplasty and also atrial fibrillation clinic in India.
Phone No
For Enquiry
- 18602080208
Asian Heart Institute, Mumbai
Established in the year 2002, in Mumbai, the Asian Heart Institute is a pioneer in cardiovascular surgeries and is one of the two hospitals in India that participated in a government insurance scheme to cover medical expenses of the poor. In 2013, this was the only hospital that committed to operate children with congenital heart diseases, for free. Bypass and Redo bypass surgeries, ASD and VSD closure, valve surgeries and aortic aneurysm surgeries which are considered to be highly complex are a cakewalk for the experts at this top heart hospital in India. In the past 13years, more than 3000 high risk cases have been treated with ease. What's more interesting is that Dr Panda, the founder of the Asian Heart Institute, was chosen to perform a bypass surgery on the ex-Prime Minister of India, Dr Manmohan Singh. The hospital takes great pride that the PM was extremely happy with the services.
The success rate of the Asian Heart Institute is 99.3%, the highest in India. Doctors at this best cardiology hospital in India perform a bypass surgery on a beating heart, which is quite rare at many other hospitals. The paediatric cardiac care wing is at par with international standards and every single day, more than ten children undergo complex surgeries.
Phone No
For Enquiry
- (022) 61678600